When designing a trade show display, people often think about flooring last.  Often, that's because it's an afterthought such as oh yeah, we'll need something comfortable to stand on or we'll want a colored carpet to match the brand.  It's often not something they consider critical to the trade show display design overall.  However, if you've got the budget, flooring can contribute to your trade show display design by providing that extra oomph to gain some attention and to bring your overall trade show display design together.  Consider the following ways in which you can accomplish these goals:
Use LED Flooring as a Part of Your Trade Show Display Design
A funny thing happened at Aviation Week MRO Americas this year; one of our clients drew people from across the exhibition hall with a unique element of their trade show display design.  They used an LED screen on their floor projecting images such as their logo and koi fish with various colors to delight visitors.  People gathered around this LED screen for quite some time to watch the patterns change.  On average, they appeared to have spent longer in the trade show booth than most other exhibitors' in the surrounding area.  That's because this unique element of flooring was outside of the norm and really grabbed their attention.  If you consider that many people walk with their heads down, you'd see why something would be so appealing.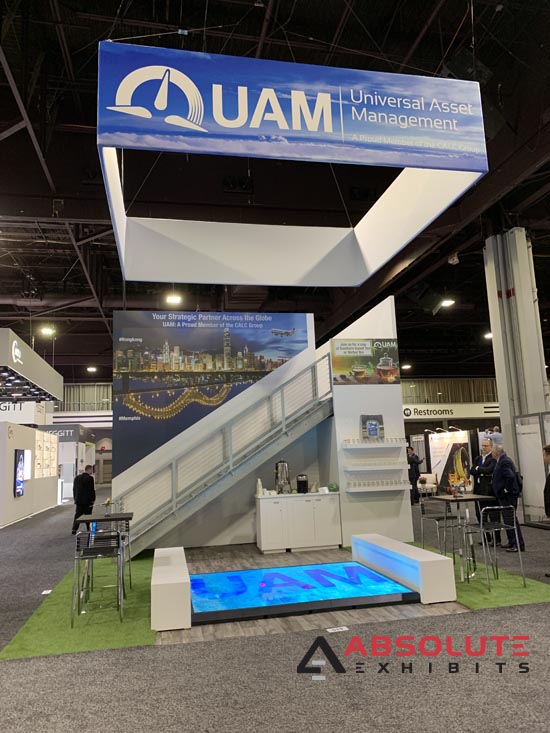 Complement Your Trade Show Display Design with Textured Wood
Textured wood can be expensive flooring, but it can also be worth it when your trade show display focuses on something outdoorsy, building materials, or natural products. The benefit of textured wood is that it can stand out not only from what is often ugly exhibit hall carpet, but the cacophony of various colored carpeting in adjacent trade show displays.  If you're currently in the middle of a trade show display design, consider how textured wood could complement your current ideas to bring it all together.  It's preferable to use complementary ideas rather than tack on flooring as an afterthought.  If your business is building supplies, carpet seems like a rather odd choice for the kind of materials you might be displaying.  As you bring your trade show display design together, consider your flooring options as a part of your overall theme and you'll find that you make a better impression overall.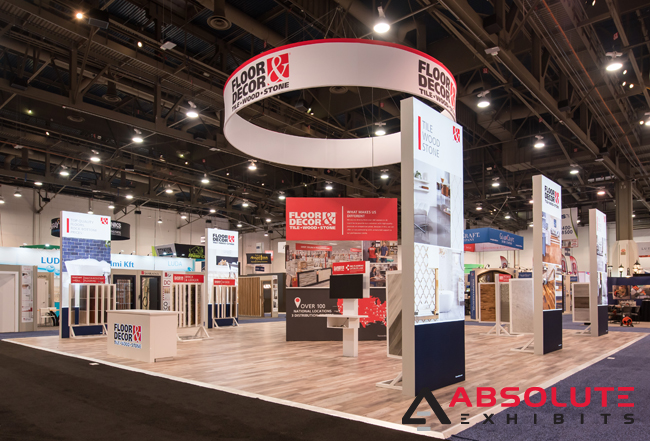 Don't Forget Textured or Patterned Carpeting
If you're not in the construction or building industry and don't have the budget for flooring that can cost thousands of dollars more than you were prepared for, you can still stand out with textured or patterned carpeting.  While other exhibitors may have stuck with their exhibit design house partner's recommendation of one of 5 solid colors, you can dare to be different by choosing a textured or patterned carpet as a part of your trade show display design.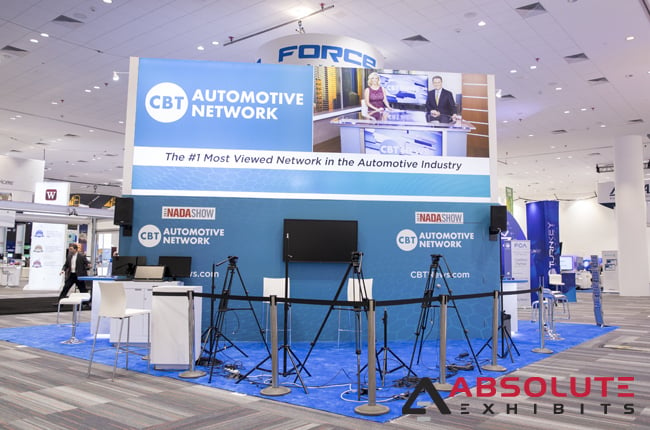 By choosing a patterned or textured carpet, you can add a layer of complexity to your overall design.  It can match your overall branding and messaging or you can take a different tactic altogether and feature something that is complementary but not too matchy matchy.  Consider where your taste lays and communicate this to your exhibit house partner when you go through your trade show display design.
There are many elements that go into a strong trade show display design- from signage to messaging, lighting, color, structure, and even flooring.  Ideally they will all work together to present a "wow" factor that trade show attendees simply cannot pass up.  Dare to think outside the box in various instances and see what you can come up with.  Don't be afraid to throw ideas out to your designer so they can make recommendations on what you can afford according to your budget and what might work with a design versus what might clash.  They're there to help you through the process.  Don't forget that not everyone walks through an exhibit hall with their head up looking at signs- some walk with their head down, noticing your flooring first.