We're all fans of technology, no matter your generation.  One thing we all have in common as consumers and business leaders is an attraction to the latest and greatest technology.  Therefore, it's no surprise that we would similarly want to showcase technology inside a trade show exhibit.  Everyone is vying for the attention of buyers, consumers, franchisees, or various kinds of prospects and leads.  How will you set your trade show exhibit apart from the rest?  The answer is to embrace and showcase technology in your trade show exhibit.  Intimidated, wondering where to start?  Try the following techniques to incorporate technology sympathetically into your trade show booth design:
Feature Touch Screen Technology in Your Trade Show Exhibit
There are many different ways in which exhibitors have chosen to feature touchscreen technology in their trade show exhibit.  This includes life sized looking iPhone screens on the side of their exhibit to kiosks surrounding their exhibit or even standing iPad pedestals.  Even if you have a smaller trade show exhibit with a smaller budget, you can set out touch screen smart tablets that people can use to engage this sense beyond just the visuals that usually overload people at a trade show.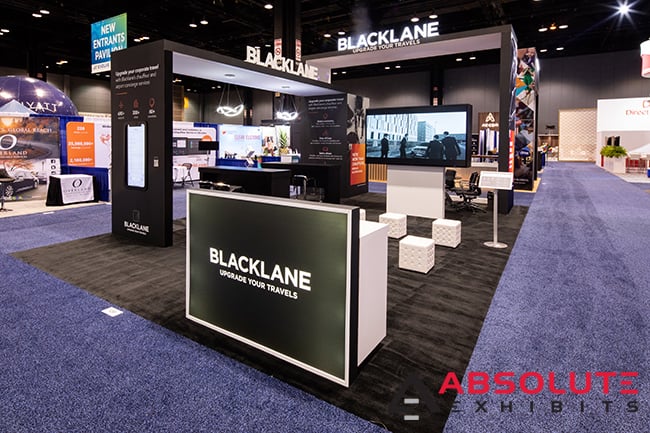 Incorporate Gamification in Your Trade Show Exhibit 
You know what people really like about technology?  They like to play games in order to learn more about a product, good, or service.  By featuring gamification in your trade show exhibit, you too can have a line full of people out of your exhibit.  This allows people to very simply grasp the core concept and competencies of your product, but it also allows people to engage with your brand in a nonintimidating manner. While people's guards are down, you can also casually talk to them within your trade show exhibit about your product, good, or service prior to their playing the game.  Consider how you might incorporate gamification into your exhibit, even if you're not in the technology industry.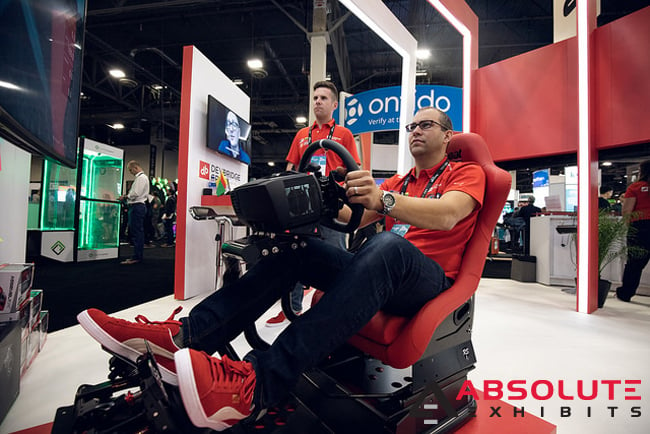 Virtual Reality Transforms Your Trade Show Exhibit
Some trade show exhibits look deceptively simple.  But then the virtual reality headset comes out for a test spin.  Suddenly, you're transported to an undersea adventure, a new world seemingly light years away, or viewing full rooms of impeccably decorated furnishings.  The possibilities are endless when you introduce virtual reality into your trade show exhibit.  A relatively new technology to most people, it's still a thrill to pick up a headset and see where you'll be transported to and what you'll see.  By adding this technology to your trade show exhibit, you're better able to keep a prospect or lead in your exhibit for longer, providing a meaningful brand experience.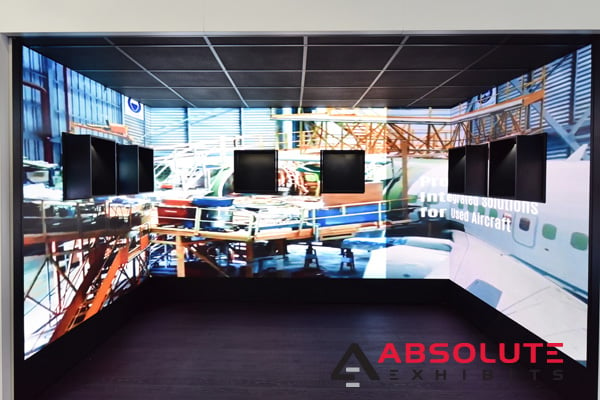 Capture the Trade Show Hall's Attention with a Video Wall in Your Trade Show Exhibit
Video walls are incredibly popular.  They're not just for the giants in the space, though.  A video wall can be a half wall featuring a marketing video or it can be incorporated into various elements of your trade show exhibit itself, including the walls and various visual focal points.  Instantly, you can transform the texture of your exhibit, or you can project a video across the trade show floor in full color and sound.  You can even create an immersive room that introduces prospects to your brand and products. These kinds of technology are very versatile, offering a myriad of opportunities to exhibitors.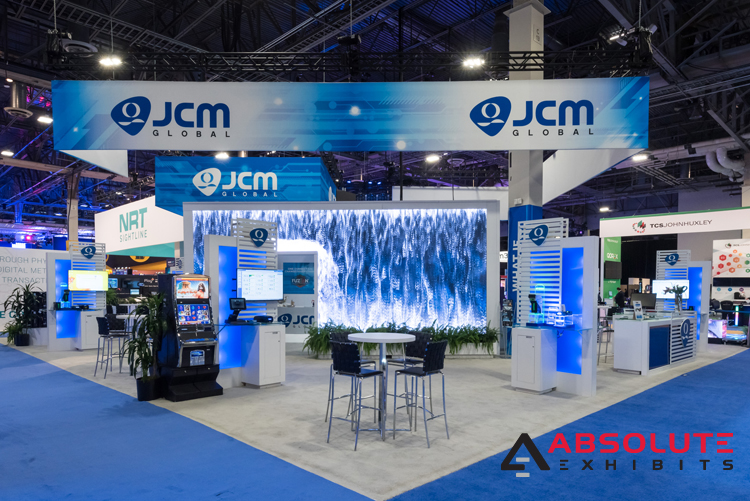 Digital Signage
It may not be something that readily comes to mind, but digital signage is a popular form of technology used in many exhibits.  When you add digital signage to your trade show exhibit, you make a bold statement that often draws attendees from across the trade show floor.  Whether this is a video playing overhead, a screen on the floor playing various sceneries, or something completely different, digital signage captures both the eye and the imagination.  This can be an excellent way to incorporate technology into your trade show exhibit.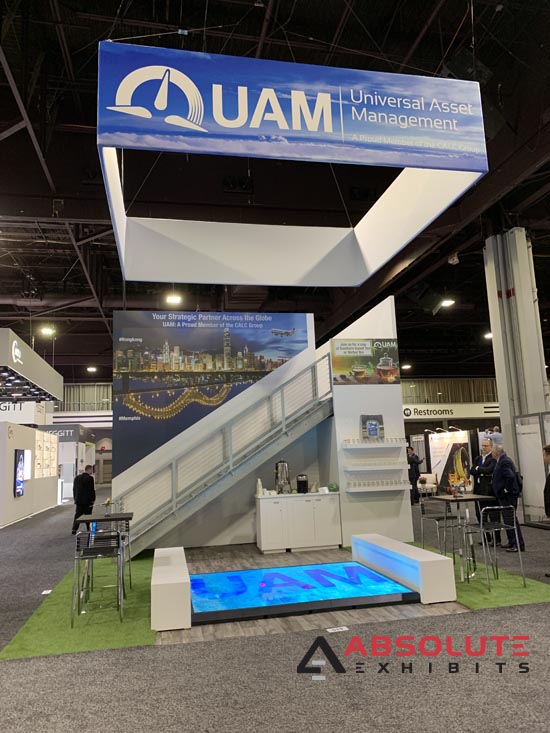 If you're going to be exhibiting soon and are in the process of deciding upon a design, think of how you can incorporate technology into your next exhibit.  You might be surprised at some of the ideas your exhibit design house has in store for you.  With decades of experience, you'll get the guidance you need to make the right decision.