We're living in a digital age, so increasingly, exhibitors are starting to add more digital tools to their trade show booths on the trade show floor.  This can range from a video playing on the back wall of a trade show display to more impressive and sophisticated forms of digital media that can integrate into the design of the trade show display itself to media stands.  Consider these ideas for integrating digital media into your next trade show display:
Create an LED Wall in Your Trade Show Display
Do you have a video message that you'd like trade show attendees to see?  This could be a commercial advertising your products, or it could be video testimonials from happy clients, or simply glamorous videos of your product in action.  Using an LED wall, you can make sure people see your messaging from a distance.  Often, these kinds of sophisticated elements attract curious people from across the trade show hall, eager to see what the fuss is about.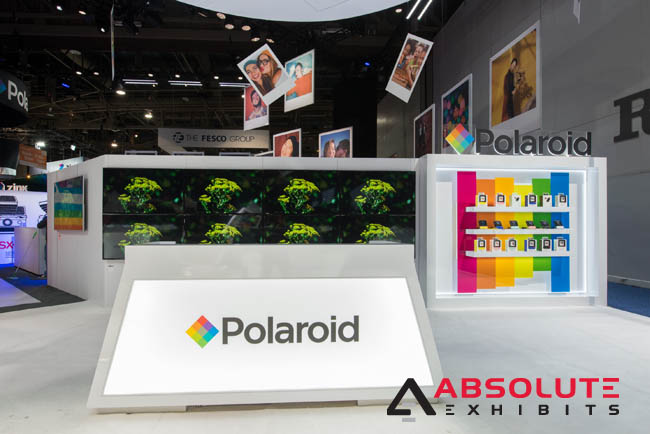 Encourage People to Use Technology to Deliver their Selfies
The rise in platforms like Instagram have created a culture that's big on content creation and curation.  People are so used to taking pictures of themselves and sharing them with others that the dictionary added a whole new word to describe these photos- "selfies".  You might have noticed that many exhibitors or events often have a stand in their trade show display to take selfies and to then email or text them to participants.  This is not only a fun way to get people to come interact with your exhibit, but it's also a great way to capture potential new lead information.  It doesn't have to be a stand, though.  It can be a dedicated area for taking selfies where participants then use your software to edit the images and to send them to their accounts.  There are multiple options available to exhibitors looking outside the box.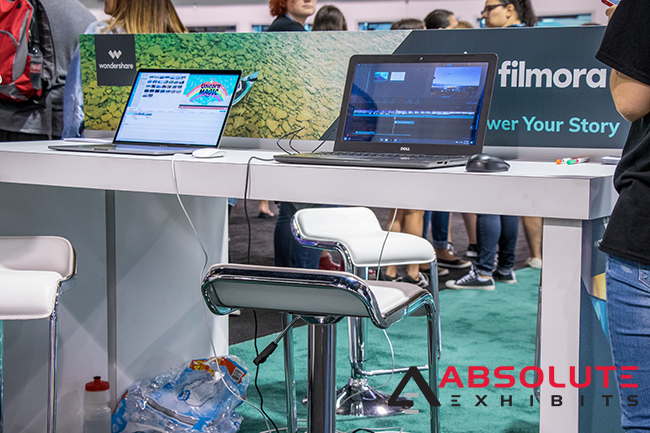 Feature Touch Screen Options to Engage with Your Product or Services
At trade shows, many exhibitors focus on the visuals in their trade show display.  But what about the other senses?  Trade show attendees are overwhelmed with an exciting and dizzying array of visuals.  What if you engaged the sense of touch as well?  People love to touch things in order to learn.  From the time we're toddlers, we're encouraged to tap on technology to learn more about something- spelling, shapes, colors, you name it.  Using touch screen technology can tap into this comfortable and familiar form of engagement and better educate visitors in your trade show booth.  If you're looking to integrate this technology into your overall design, consider hanging a touch screen surface inside your trade show display or on the outer wall to build engagement into your plan.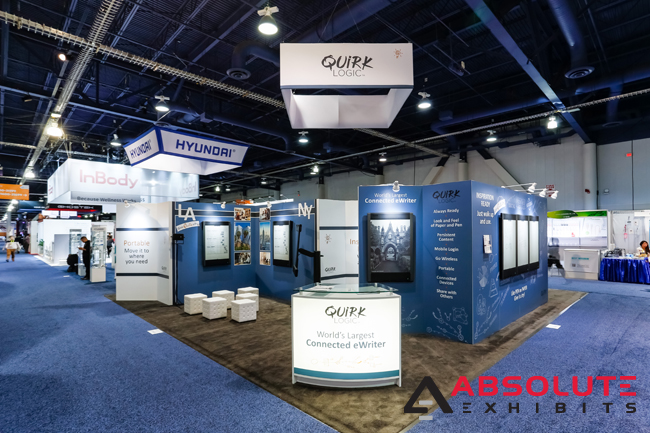 Create a Digital Entry to Your Trade Show Display
More brands are taking the entry to their trade show booth seriously and getting creative with it.  Often, they're presenting simple videos that show off their branding and digital effects.  Many times, they're also broadcasting testimonials or product demonstrations.  Depending upon the entry to your booth, one may be more appropriate than another.  These are the most eye-catching kinds of entry ways on the trade show floor, though, and they create the kind of curiosity in attendees that lead them into your space to learn more about your brand.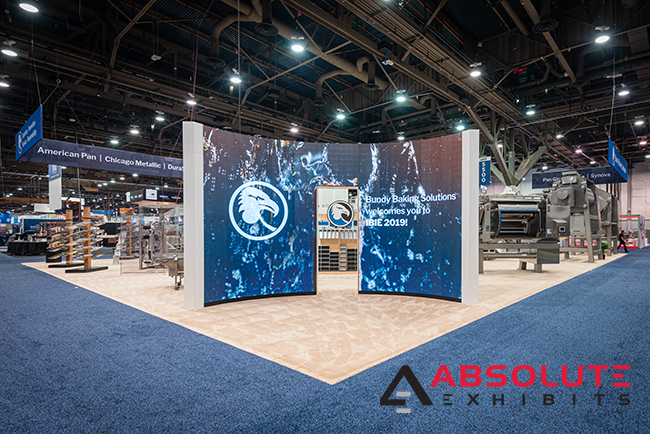 These are just a few ideas of how to integrate digital media into your trade show display.  For more great ideas, ask your exhibit house partner, who can make recommendations based on their experience across multiple industries.  They can also tell you more about the emerging trends that you may want to use in your next trade show display.