It may feel like a long way off, but NADA is right around the corner.  This January, thousands of exhibitors and dealers will descend upon San Francisco.  Will your NADA trade show booth stand out and attract dealers' attention or will you be one of the many booths that goes unnoticed?  We've collected some of our favorite ideas to help your NADA trade show booth stand out in the crowd.
Pick a Creative Theme
If you've ever been to NADA, you know the great variety of booths that line both exhibition halls.  NADA 2018 saw some really creative NADA trade show booth ideas and many more that faded into the background.  How do you stand out?  Pick a creative theme and run with it.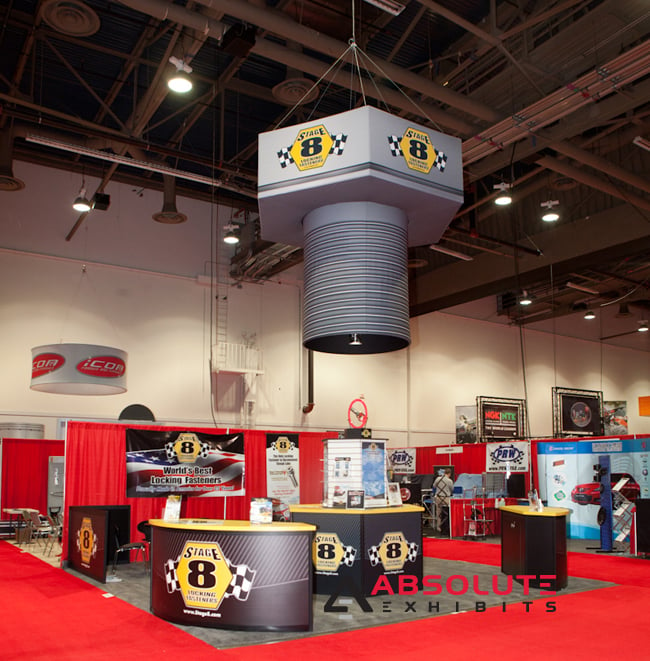 The 2018 show had some stand out ideas that really caught dealers' attention.  These included a basketball themed trade show booth, the Toyota pavilion with its translucent car, and more.  While it may be tempting to trot out the same system booth year after year, take a cue from some of your peers and design a NADA trade show booth that will catch people's attention with a creative theme.
Make Your NADA Trade Show Booth Fun
One of the things that many businesses lack is a sense of fun in their NADA trade show booth.  Sometimes, you have to think outside of the box at what can be fun.  At last year's NADA, one car wash business had huge rollers that they let us jump in and out of.  It was safe and drew attention to their booth in a creative and fun way.  If your business is something less exciting, consider gamification of a technical platform or augmented reality tools to make it fun for dealers. Working with your exhibit design house partner, you can design a structure to feature your fun idea and capture more attention.
Use Bold Signage
 With so many large pavilions at NADA, it can be difficult for a 20×20 trade show booth to stand out on the trade show floor.  In this case, you can use bold signage to draw dealers' attention from across the trade show floor.  Our client, Dealer Built, used both a hanging sign and a curved wall of signage in their NADA trade show booth.  For many dealers, this was eye catching and piqued their curiosity to learn more about their dealer management system. If you're considering how to design your NADA trade show booth to stand out, it can be as easy as using bold signage.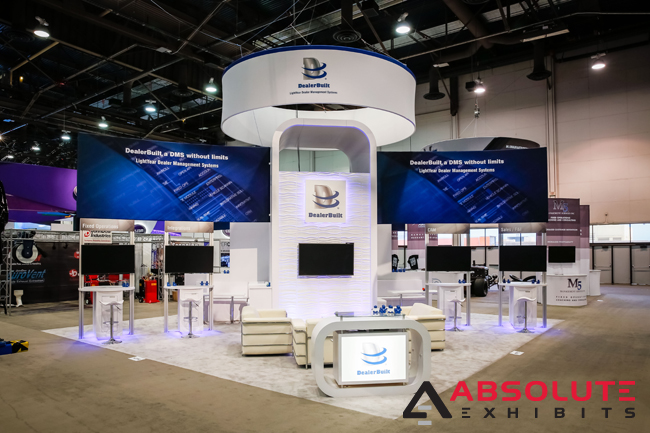 Lights, Camera, Action!
What's more fun than being on camera live at the convention?  Our client, Force Marketing, understood this and offered live interviews of dealers on the trade show floor.  As a result, their NADA trade show booth was very popular.  What dealer doesn't want to be featured as a leader in the industry?  Consider how even a website platform or a dealer management system could integrate a live podcast or a live YouTube feed into their NADA trade show booth design to attract more dealers and increase leads.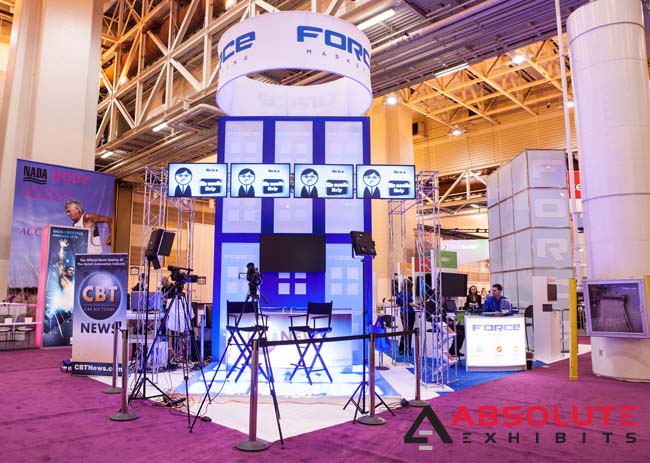 NADA is right around the corner.  If you're still using the same old trade show booth, it might be time for a refresh.  Consider how ideas like these could transform your design and ultimately attract more dealers to your booth.