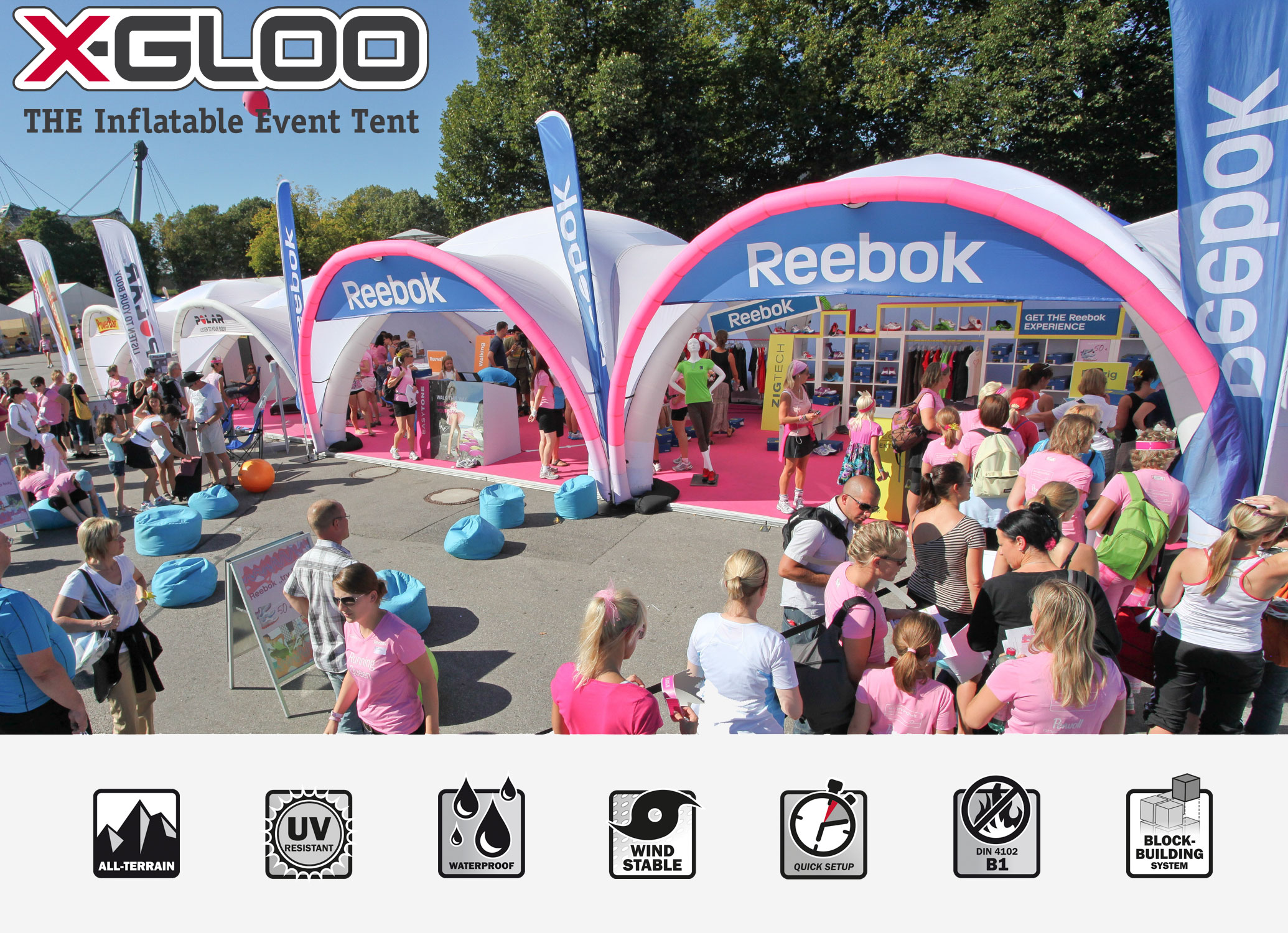 The X-Gloo event tent is an award-winning inflatable, modular, and lightweight tent system designed to ensure maximum attention and brand exposure at any event.
Thanks to the aerodynamic form, high-tech materials, and clever stabilization system, it is perfectly suited for indoor and outdoor use, wind-stable, waterproof, and fulfills the B1 fire protection norm.
The X-Gloo is individually customizable and deflates to a surprisingly small pack volume for easy transport and storage. Save on staff, time and money with this incredibly unique inflatable tent!
Request a Quote: Call +1-657-22-XGLOO (94566) or fill out our contact form to have someone reach out to you.
---
THE Inflatable Event Tent for Use Anytime, Anywhere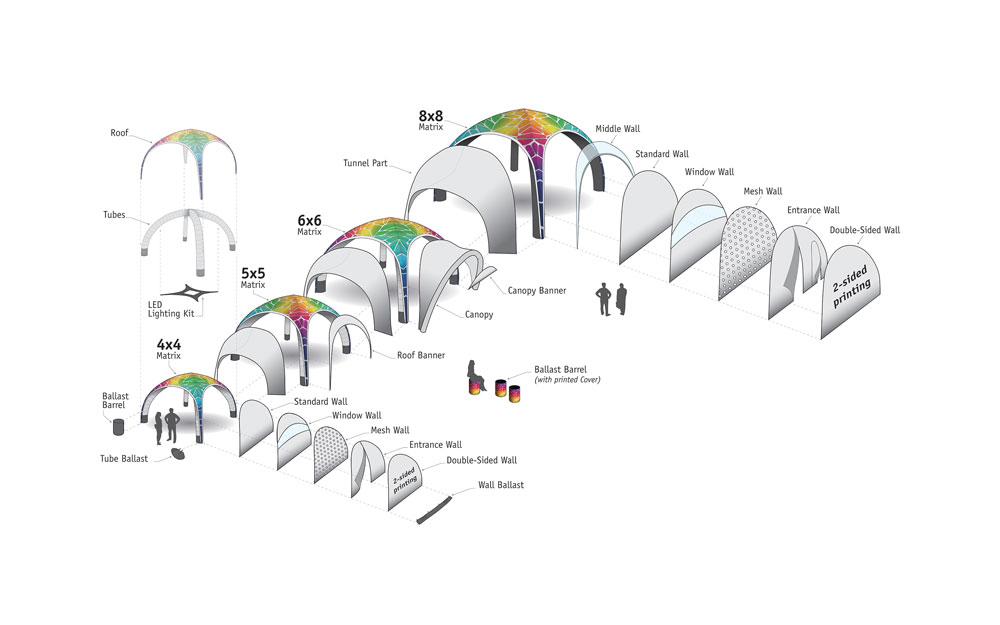 The X-Gloo inflatable event tent is available in multiple sizes ranging from 4×4 meters (approx. 13×13 feet) to 8×8 meters (approx. 26×26 feet).
Optional accessories are also available, such as a canopy, canopy banner, side walls – with door, window or solid – as well as tunnel elements, with which you can combine as many X-Gloos as you need.
The optional walls, tunnels and canopies can be zipped on or off quickly and easily. The roof and tubes which make up the tent "Matrix" can also be removed, exchanged or replaced. Your X-Gloo grows or changes to suit your event needs!
Superior Quality – Built to Endure
X-Gloo tents are designed and constructed to be of the highest quality and functionality using in-house produced fabrics. Thousands of engineering hours and dozens of fabrics and prototypes tested to ensure that these tents are durable and can stand up to wind and weather conditions time and time again.
Lightweight and Portable
X-Gloo is incredibly lightweight and portable. Weighing approximately 13kg (28 lbs) to 42kg (92 lbs), X-Gloo can be easily transported in the multifunction transport bag (included) or in the trolley and can fit into any small car.
Quick and Easy to Set Up
X-Gloo tents can be set up by one person in as quickly as 5 minutes! Once inflated, the tent will stay standing for days on end without the need to add air. No permanent pump or annoying blowers needed!
Dye-Submlimation Printing for Vivid Graphics
Full-surface dye-sublimation printing of the event tent roof and elements brings brilliance to your CI colors, logos, and designs; and transforms the X-Gloo inflatable event tent into an eyecatcher that perfectly presents your brand and marketing message.
Request a Free Quote
Absolute Exhibits is an X-Gloo Authorized Partner. For more information about X-Gloo inflatable event tents, contact us at +1-657-22-XGLOO (94566) or send us a message via our contact form to have someone reach out to you.
---
Photo Gallery