There's a science behind why we do things certain ways instead of others.  This is called ergonomic design.  If you've ever been a part of a large corporate company, you may have had an ergonomic specialist come into your office and adjust your monitor height, your chair, keyboard, mouse, or more.  The reason behind these adjustments is to provide maximum comfort for you as you work and to prevent injuries.
Ergonomic design is defined as the science of designing and arranging items for the most comfortable and efficient use.  The goal is to improve safety, performance, and comfort in that setting.  While this may be an obvious element of design principles in an office setting, it can also be used in trade shows.  Imagine exhibiting at your trade show booth without having to soak your feet in ice water at the end of the night, or having to sit down every few minutes, avoiding items that might injure you, and instead being able to comfortably approach new leads and prospects in your booth.  This is where ergonomic design of your trade show booth can help.
Ergonomic Design Tip #1: Opt for the Extra Carpet Padding Instead of Uncomfortable Flooring
If you've ever exhibited at a trade show, you know that you're often on your feet for 8 hours a day.  Some companies have enough team members to let them work in shifts but many do not.  For many women, this poses a significant problem of foot ware that isn't always as comfortable as they advertise.  Whether cork bottomed soles, leather, high, low, heels, wedges, or flats, comfort is not usually included in the design.  If you're on your feet for 8 hours a day, wouldn't you rather stand on extra padded carpet instead of hard harsh flooring?  This is where ergonomic design can come in.  While working with your exhibit design house partner, let them know your desire to include ergonomic design elements such as the carpet on which team members will stand.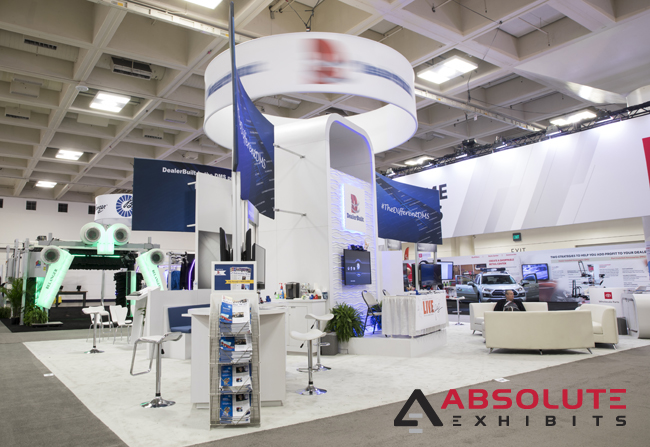 Ergonomic Design Tip #2: Consider More Ergonomic Knobs, Handles, and Controls
While designing your next trade show exhibit, consider how different team members may have different needs.  No more is this evident in the little details such as storage tower handles, locking cabinets, and more.  When these accessories are round, they require more gripping strength to fully turn a knob.  In contrast, an L shaped accessory or a straight bar requires less grip and pressure.  This can reduce strain on team members while exhibiting and are friendlier towards team members who may have preexisting conditions unknown to you.  Ergonomic design can solve these potential safety issues without having to pry into private medical records.  By incorporating the principles of ergonomic design, you can make it that much easier to exhibit.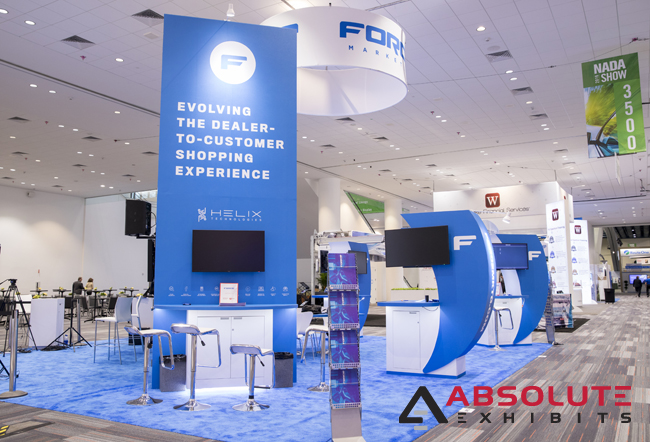 Ergonomic Design Tip #3:  Comfortable Seating
When you look around the trade show floor, you'll see many exhibits just don't take ergonomic design into account.  Many exhibitors opt for high bar stools and table tops without considering comfort or handicap accessibility.  People in wheelchairs won't find them accessible and a weary prospect won't find it comfortable to sit down and rest while they have a discussion about your products.
Instead, consider finding more plush seating, whether that's a circular or long couch or club chairs.  Obviously, your booth won't be able to compete with a massage chair company that may be exhibiting at the same show, but you can provide comfort with a little thought towards ergonomic design.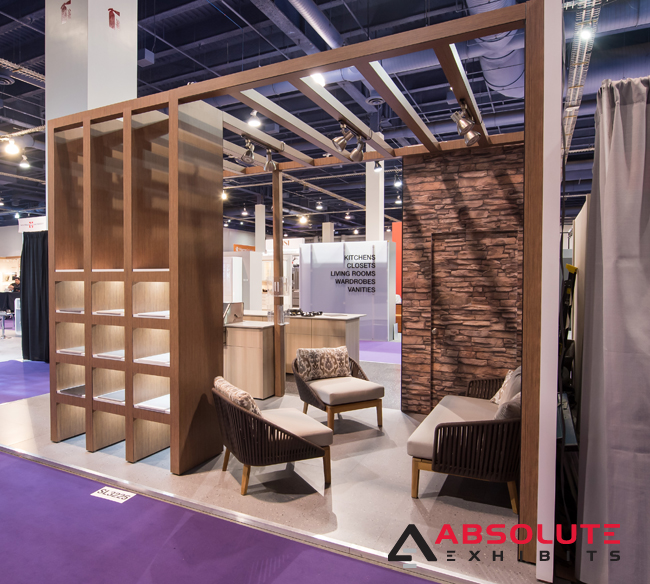 Ergonomic Design Tip #4:  Ditch the Intense Lighting
Everyone wants to stand out at a trade show, so they often use one of the staples of great trade show booth design– lighting.  Yet, lighting does not have to be harsh and worthy of interrogation procedures. Using ergonomic design, exhibitors can instead opt for less harsh colored lighting, or softer recessed lighting.  After 8 hours on the trade show floor, team members speaking to leads and prospects will find it much easier to see without headaches.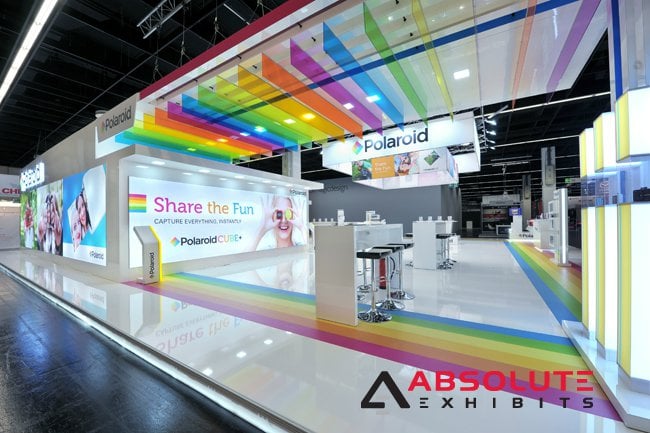 Ergonomic design is all about the little things that ultimately make our lives easier.  Whether that's how you make your space easy to navigate for crowds or the handicapped, or the little touches you add that make it easier for people to do their job, you're making it a more comfortable environment.  Trade shows aren't known for being comfortable environments, so the more you can do to make it that way for both your team members at the show and attendees, the better off you'll be.