Show: CONEXPO-CON/AGG 2017
Location: Las Vegas Convention Center (Las Vegas, NV)
Industry: Construction & Industrial Machinery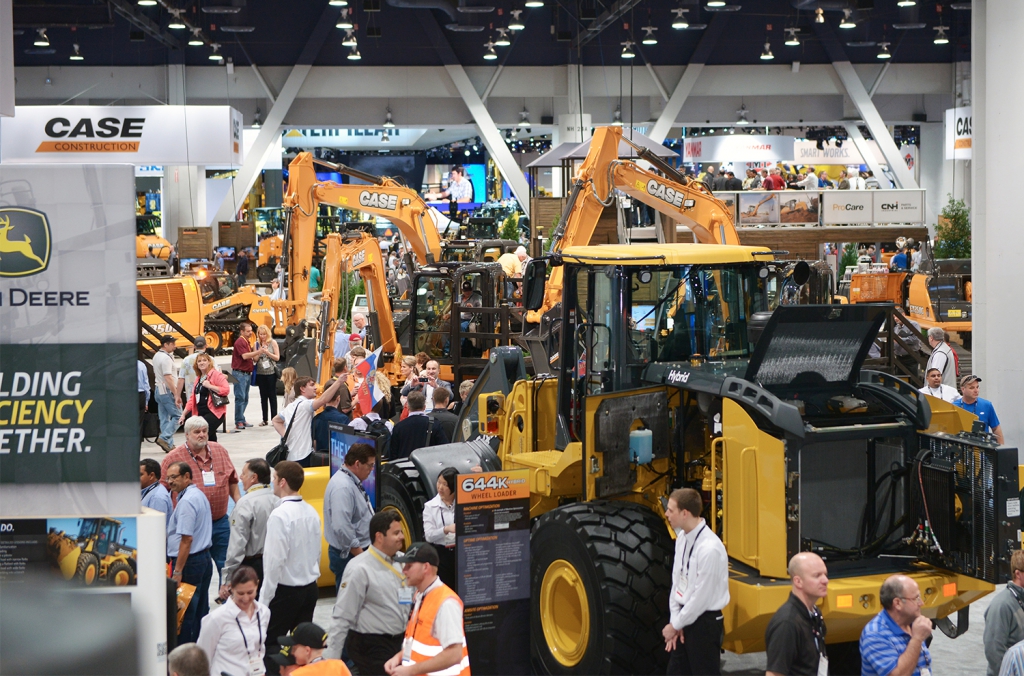 If you happened to find yourself walking down an aisle on one of the many convention floors at CONEXPO-CON/AGG, it'd be impossible to dismiss this event as "just another trade show".
This colossal exhibition stretches the length of three city blocks – occupying twelve exhibit halls, five parking lots, and two convention centers. Across the 2.5 million square foot of total exhibit space you'll find construction vehicles and tools of all shapes and sizes for countless purposes, all freshly painted in the unmistakable construction mustard yellow.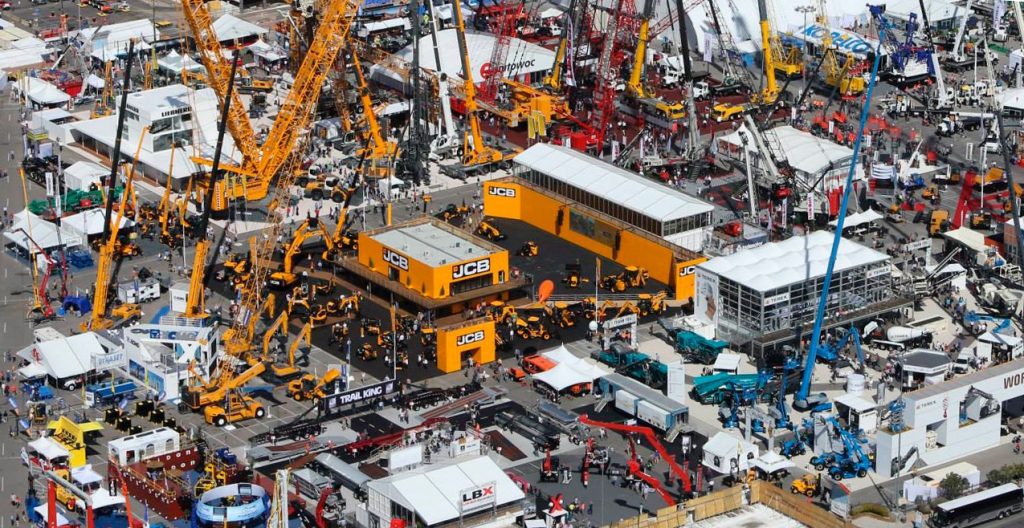 Waiting in this sea of machinery are over 2,500 exhibitors from every possible sector of the construction industry. Over the next five days, they will welcome an estimated 130,000+ industry professionals in an effort to earn their business in the coming years.
Typically, most organizations host one trade show a year, every year. This is especially true for shows geared toward consumer products, such as San Diego Comic Con (SDCC) and Automotive Aftermarket Products Expo (AAPEX).
Other times, organizations will host multiple shows throughout the year to better engage specific sections of their market. This is common in the food industry, where organizations host bi-annual shows, such as Summer and Winter Fancy Food Show (SFFS/WFFS) or Natural Products Expo East and West (NPEE/NPEW).
However, some trade shows like CONEXPO-CON/AGG take a different approach by spacing out their event(s) once every two or three years. It's a far less common practice, but one look at the massive scale of CONEXPO-CON/AGG and it's immediately clear why the Association of Equipment Manufactures (AEM) chooses to host this incredible show once every three years.
With so much riding on these five days, there's a palpable tension in the air that can be felt in the days leading up to the event.
Absolute Exhibts at CONEXPO
For Absolute Exhibits, our work begins at 8:00 AM on February 27th, over one week before the doors open to the public.
This is the first day of installation and the culmination of months of work and planning. By this point, all 28 of our clients' exhibits have been designed and finalized, the graphics have been proofed and printed, and the booth materials have been machined and delivered to show site.
All that's left to do is build.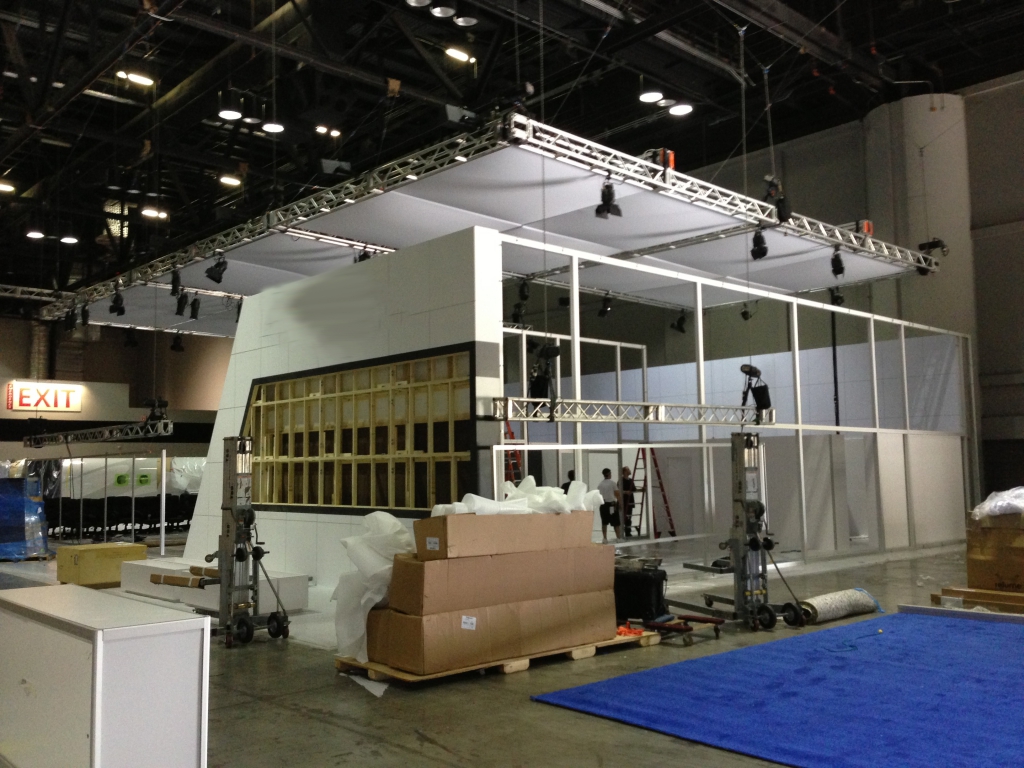 Over the course of the next eight days, the installation and dismantle (I&D) team will construct all 28 exhibits from the ground up, including exhibit hardware, furniture, electronics, lighting, graphics and – of course – heavy machinery.
Each of our clients' exhibits are unique and have been designed to achieve their specific interests and goals for the show. In the section below, we've selected a few clients and have highlighted some key elements of their trade show booth.
We encourage you to see them for yourselves in-person at the Las Vegas Convention Center from March 7th-11th!
---
McLanahan Corporation
Booth Size: 50' x 80'
Booth Number: Central Hall 3 – C31027
Account Executive: Tauny Thompson
Founded in 1835, the McLanahan Corporation has been in the industrial machinery business for almost 200 years. To this day, they remain a family-owned business because their family extends far beyond those who share the company's name.
From the employees who work there day after day, to the customers who purchase their equipment, everyone who works for and with the McLanahan Corporation is considered a part of the McLanahan family.
Their goal for CONEXPO-CON/AGG was to design a booth that would reflect these values. To achieve this, the McLanahan Corporation and Absolute Exhibits wanted to create an open space that would welcome all of CONEXPO's attendees.
Conscious of the fact that many of the attendees may be tired while walking the enormous show, the McLanahan Corporation placed several "rest stops" throughout their booth to allow attendees to sit and take a break from walking the show.
Within eyesight of these rest stops are some of the major visual components to the McLanahan Corporation's booth, including their graphic centerpiece, video screens, as well as some actual samples of their latest equipment, including their new Wet Modular Sand Plant and the MAX Series Vibrating Screens.
If you're in Central Hall 3 and looking for the McLanahan Corporation booth, look for a large circular structure in the middle of the hall. Stop by, take some time to rest, and come learn first-hand what it means to be a part of the McLanahan Corporation family.
Make sure to register for McLanahan's Educational series at ConExpo 2017! Featuring Mark Krause and Matt Lear! https://t.co/SYqXiQUyoz pic.twitter.com/Ip85ketnHx

— McLanahanCorporation (@McLanahanCorp) February 27, 2017
CDE Global
Booth Size: 140′ x 90′
Booth Number: Silver Lot 1 – S5438
Account Executive: Tauny Thompson
25 years ago, Tony Convery founded CDE in Cookstown, Northern Ireland. In this tiny town inhabited by less than 11,000 people, the business grew, expanding its influence across the globe with each passing year.
Since then, CDE Global has grown to become the world's largest wet processing equipment company, supplying over 200 projects a year in every part of the world.
In 2014, they made their CONEXPO-CON/AGG debut and launched the M4500 wash plant for purchase on the global market. The event and launch were a major success and CDE began working on establishing a major presence in North America.
This year, in 2017, they will return to CONEXPO-CON/AGG and will be using the opportunity to unveil their brand new M5500 wash plant that has been tailored for the North American market.
Kevin Vallelly, Head of Product Development at CDE, had this statement on their newest machine:
"The M5500 is specifically adapted to the requirements of North America operators who are seeking to achieve high production levels with a focus on quality and cost-efficiency."
Our Infinity screens display looks in great shape for @conexpoconagg #LasVegas #CDEconexpo17 pic.twitter.com/orwZG9i3yz

— CDE Global (@cdeglobal) March 5, 2017
This behemoth of a machine will be accompanied at the booth by CDE Global's new weld-free Infinity screens. These new lightweight screens allow for finer separation of materials resulting in higher quality washed sands while significantly reducing power consumption and other operational costs.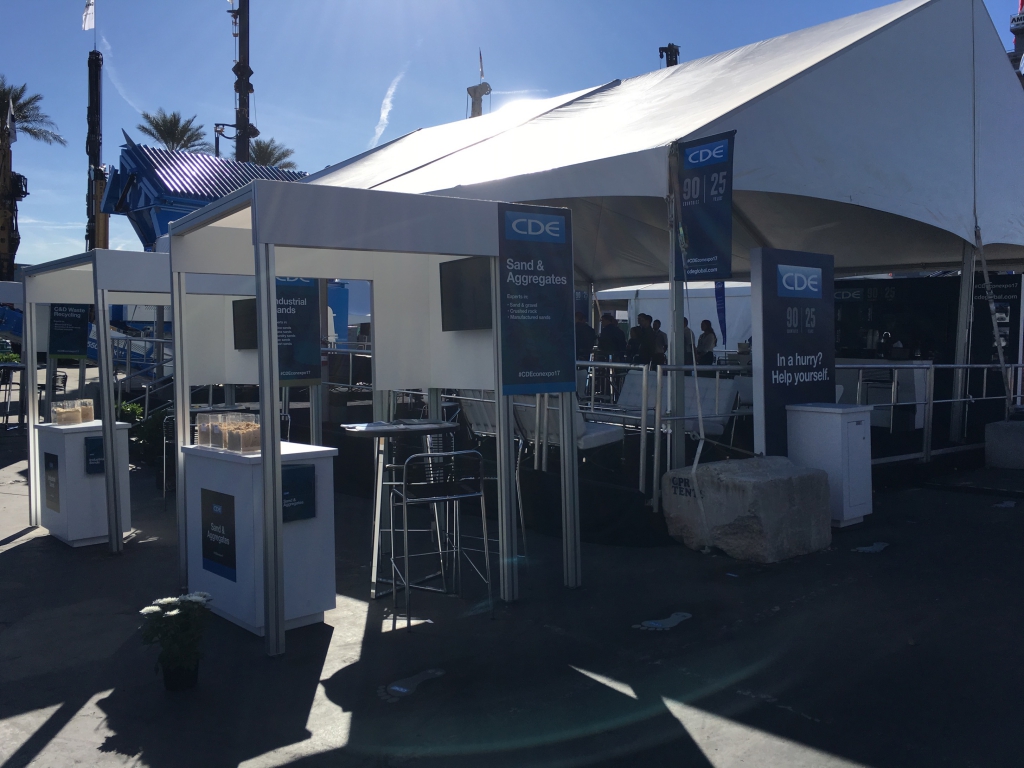 View the M5500 sand plant and Infinity screens at ConExpo-Con/AGG in Silver Lot 1 at Booth S5438. While you're there, enjoy a drink from their hospitality and bar suite and visit the VR lounge to see the rest of CDE Global's inventory and capabilities.
WireCo WorldGroup
Booth Size: 30′ x 30′
Booth Number: Gold Hall – G73012
Account Executive: Tauny Thompson
Exhibit Photos for WireCo WorldGroup – COMING SOON
You've probably heard the saying, "A chain is only as strong as its weakest link." Well in that same vein, a crane is only as strong as its wire rope.
That's why the workers at WireCo World Group make sure to supply their customers with only the highest quality wires, cables, and ropes.
Featured throughout their booth, you'll find wire ropes, hoist cables, and synthetic yarns from the industry's leading brands and manufacturers, such as Union, CASAR, Lankhorst, and Oliveira. You can also learn about the latest developments from WireCo's own, WireCo Structures, a popular solution for suspension cable bridges and other structures.
Thank you @absolutexhibits for making our booth [email protected] G73012 pic.twitter.com/2v32yKctJF

— WireCo WorldGroup (@wireco) March 7, 2017
Suspended in the middle of their booth will be an enormous 16-foot crane rope that has been gradually dissected to reveal the layers underneath. This rare look behind the veil will offer attendees a chance to see some of the intricate inner workings of these hefty cables.
One especially noteworthy product to look out for this year is Lankhorst's latest synthetic hoist rope, the Lanko©Lift S. This ultra flexible lightweight fiber rope has survived rigorous factory testing and its tensile strength has been recorded as similar to steel.
Come see the Lanko©Lift S and other wire engineering marvels in the Gold Hall at Booth G73012.
Costex Tractor Parts
Booth Size: 20' x 40'
Booth Number: Central Hall 2 – C22631
Account Executive: Christina Corbin
Costex Tractor Parts (CTP) and Absolute Exhibits first partnered together for CONEXPO-CON/AGG back in 2008.
Over the course of our almost 10-year relationship, Absolute Exhibits has made sure to place at the forefront of exhibit design.
When CTP learned about our state-of-the-art dye sublimation printing technology, they knew they could trust us with their first fabric trade show booth.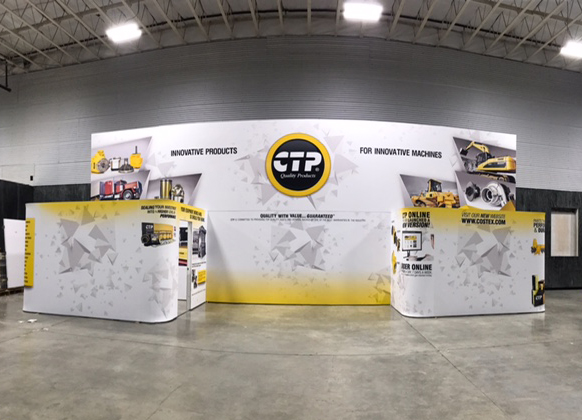 Our design team went to work, designing a booth that would feature all the bells and whistles that CTP had come to expect from Absolute Exhibits. The exhibit includes a meeting room, storage room, shelving for products, reception area, and seating for guests.
These were all elements that CTP had grown familiar with but this year the key difference was that the booth was all fabric.
All-fabric exhibits substantially decrease the overall weight of the booth, which translates into direct savings for CTP on freight and transportation costs, such as drayage.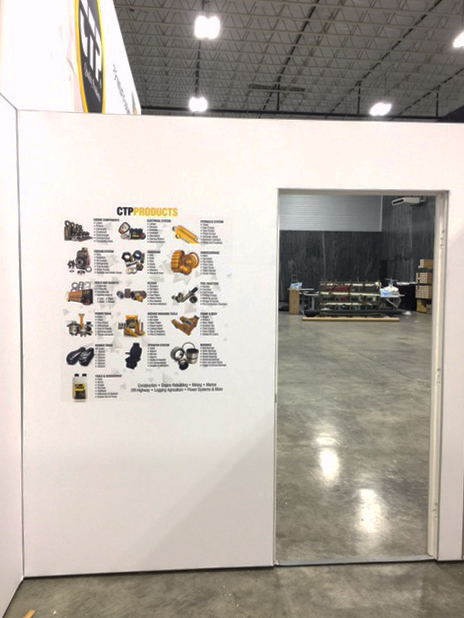 The Account Executive, Christina Corbin, has helped guide CTP through this new territory.
"I'm extremely excited for Costex", said Christina Corbin. "Exploring a new booth construction can be a big change, but fabric exhibits are quickly becoming the gold standard at trade shows. They translate to direct savings for our customers and the graphic quality is amazing!"
Take a look CTP's first-ever fabric booth and the amazing quality of our fabric prints in Central Hall 2 at Booth C22631.
Click here to see examples of other fabric-enhanced displays.
---
International Clients at CONEXPO
Absolute Exhibits is proud to be serving members from the international community. Construction and infrastructure are multi-billion dollar global trades and we're honored to partner with our international clients as they exhibit in the United States.
Once again, we have selected a few international clients exhibiting at CONEXPO-CON/AGG 2017.
Haver & Boecker Canada
Country: – Canada
Booth Size: 30′ x 100′
Booth Number: Silver Lots 1 & 2 – S5832
Account Executive: Kyle Moeller
Hailing from the North is Haver & Boecker, a global manufacturer of screening and processing technology.
This year they will debut several of their latest innovations, including the Hydro-Clean™ 1000 Wash Plant, the all-in-one solution that combines a high-pressure washing system with a vibrating screen to filter particles.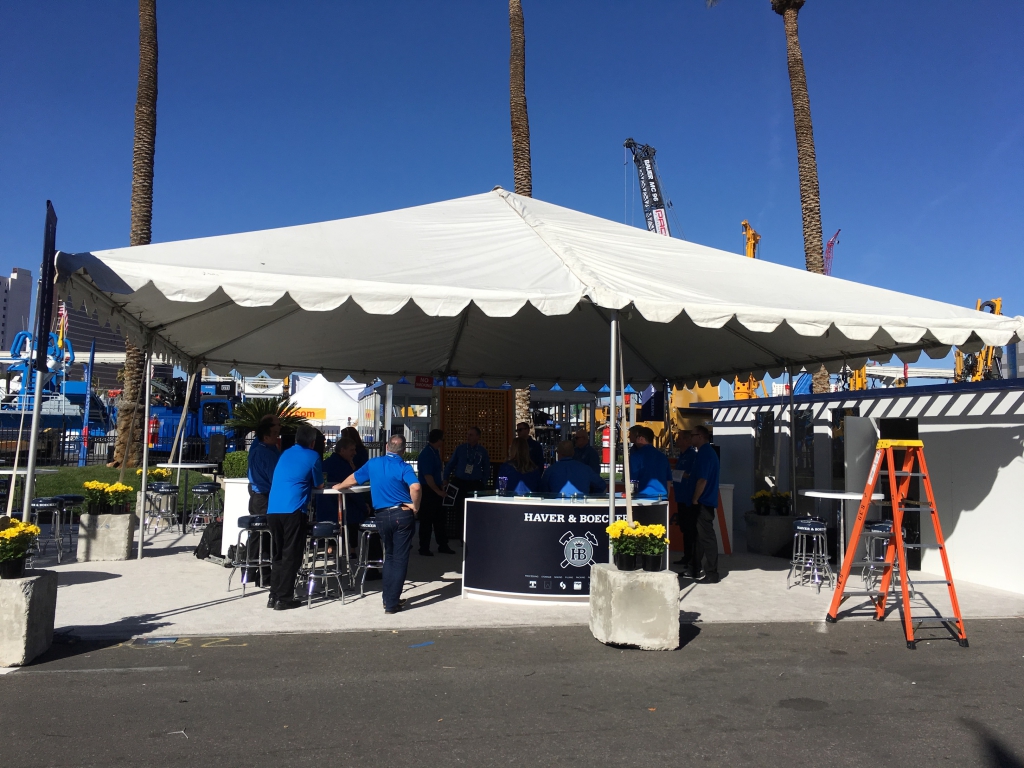 As one of the many exhibitors in the outdoor Silver Lots, hospitality was a focal point of their exhibit. Nearly half of their exhibit space has been canopied off to protect attendees and Haver & Boecker's team from the scorching desert heat.
But just because you're burning up, doesn't mean you can't relax, and what better city to relax than in Las Vegas?
Join Haver & Boecker for a night of drinks and relaxation at their after hours Oktoberfest event Hofbräuhaus Las Vegas. Visit them at Booth S5832 in the Silver Lot for more information.
Euroricambi S.p.A.
Country: – Italy
Booth Size: 10′ x 30′
Booth Number: Gold Hall – G72700
Account Executive: Don Burks
When walking past all the pristine, fresh-off-the factory-line excavators, tractors, bulldozers, and other vehicles at CONEXPO-CON/AGG, it's easy to forget that these machines are just as susceptible to breaking as any other machine. With enough stress over time, any number of issues is sure to rise up, and given the amount of stress these tools endure, that may actually be sooner rather than later.
That's where Eurorcambi S.p.A. steps in.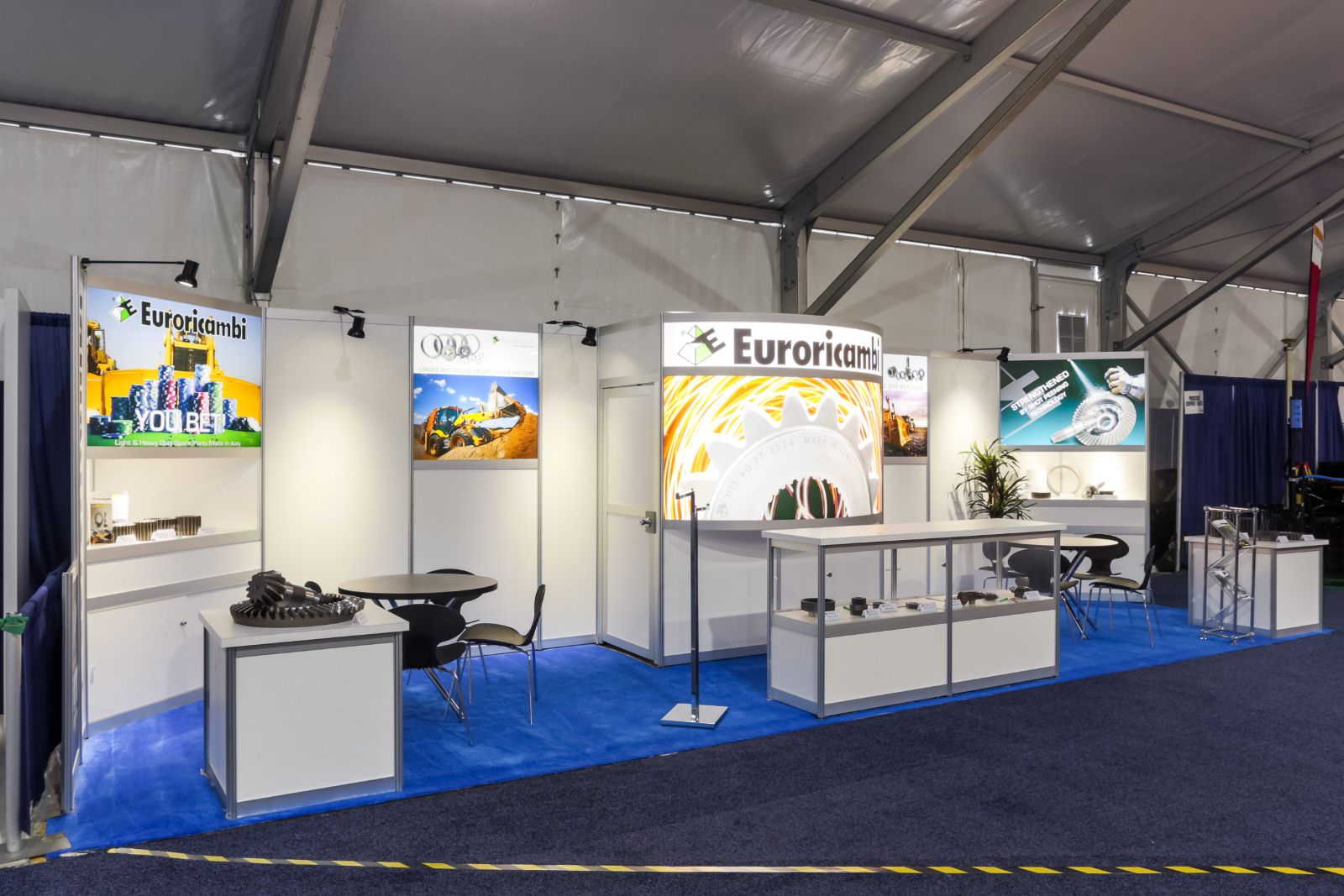 They supply spare parts for nearly every major manufacturer, from Caterpillar to Renault Trucks or Volvo and Mercedes, you can come to Euroricambi for all your replacement gears, transmissions, and differentials.
All of their parts are machined and manufactured in Italy, a country that's home to luxury automobile brands like Ferrari, Maserati, Lamborghini, and Ducati. With over 35 years of experience in the business, they know a thing or two about vehicle repair.
Learn what Euroricambi can do for you at Booth G72700 in the Gold Hall.
HKS Dreh-Antirebe GmbH
Country: – Germany
Booth Size: 20′ x 20′
Booth Number: Gold Hall – G72021
Account Executive: Hans Fritsche
HKS Dres-Antirebe GmbH is unique to this list as they are managed by one of our international Account Executives, Hans Fritsche. As a native and current resident of Germany, Hans was perfectly suited to help HKS with their international exhibiting goals.
The main concern for HKS, like many international exhibitors, was the cost to exhibit in the United States. We'll be the first to tell you that exhibiting in the US can be an expensive affair!
However, HKS was thrilled when Absolute Exhibits was able to offer an economic solution that would save the company significant costs without sacrificing the quality of the booth.
The HKS exhibit utilizes system components, which are reusable, prefabricated structures and materials. This type of exhibit construction offers an inexpensive solution for exhibitors that value functionality over custom elements.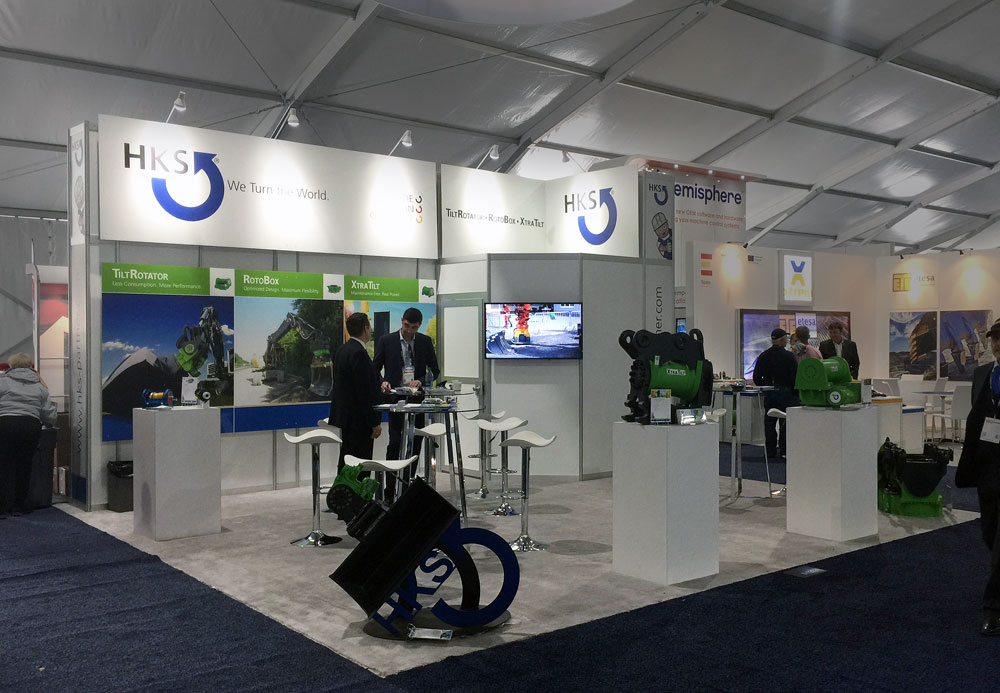 These booths come stocked with amenities like private space for storage and designated product display areas.
The HKS exhibit comes with private storage, designated product display areas and a hanging sign, which serves as a beacon and is easily identifiable from across the convention hall.
If you're in the Gold Hall, look for the HKS hanging sign and stop by Booth G72021.
Click here to see examples of other system exhibits.
Vulcanite PTY LTD
Country: – Australia
Booth Size: 10′ x 30′
Booth Number: Gold Hall – G73003
Account Executive: Christina Corbin
This Australian suspension manufacturer has been in the rubber and suspension industry for over 100 years. Their rich history has provided them with the experience to manufacture the absolute best rubber products for customers across multiple industries including rail, construction, and industrial mining.
Allowing their products to speak for themselves, Vulcanite opted for a high-quality and cost-effective solution, similarly to HKS above.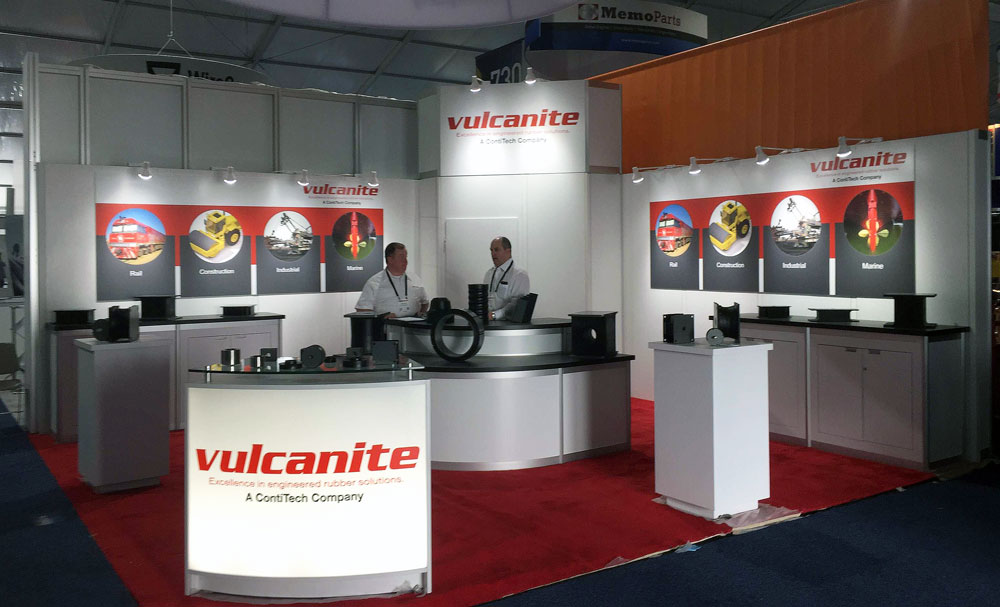 Our designers retrofitted their system exhibit to feature multiple product display areas to showcase all of the latest samples from Vulcanite.
They've yet to reveal what new products they will debut at CONEXPO-CON/AGG, but past events have been met with high praise.
Take a stroll over to Booth G73003 in the Gold Hall and be the first to learn what innovations they'll be bringing in 2017.
---
Attending CONEXPO-CON/AGG 2017? Let us know about the event and the exhibits in the comments below!