Show: International Woodworking Fair (IWF) 2016
Location: Georgia World Congress Center (Atlanta, GA)
Client: Conquest Industries
Industry: Woodworking; Industrial Machinery & Manufacturing
Account Executive: Don Burks
Last week's International Woodworking Fair (IWF) 2016 drew in record crowds and was a huge success for our client, Conquest Industries.
Once every two years, tens of thousands of exhibitors and attendees flock to Atlanta, Georgia for the biennial International Woodworking Fair (IWF) and with each successive show there have been double-digit percentage increases in attendance. From 2010 to 2012 and 2012 to 2014, IWF saw a 14% and 10% growth in attendance respectively.
This year (2016), the show completely sold out and was projected to see a 30% increase in attendance over 2014!
IWF is one of the largest shows in the woodworking industry and those that exhibit tend to bask in the success of the show. In a report published by the IWF 2014 Chairman Rick Hannigan, more than 108,000 leads were generated during the four days the show was open and over 50% of all attendees reported they expected to make a significant purchase in the next 6-12 months.
We're excited to see the stats for this year's show and will share them here when they become available.
ABOUT CONQUEST INDUSTRIES
For over 35 years, Conquest Industries has manufactured industrial machinery and sourced supplies for the woodworking and metalworking industry. They've proven themselves to be experts in their trade with decades of experience and rich history.
Conquest Industries has been a repeat exhibitor at IWF 2016 for several years. Incredibly, it's been nearly two years since they last exhibited at IWF 2014 and they are still closing sales from leads gathered from that show!
This year, in addition to lead generation, Conquest Industries had its sights set on two new objectives: increasing brand recognition and unveiling a new product.
The new product, a radial saw with a larger blade and table for bigger projects, had been inquired upon by a large number of clients and trade show attendees at previous shows.
Conquest Industries listened and was now going to give the people what they wanted.
CONCEPT AND DESIGN:
Marc Cruz, Product Manager at Conquest Industries, has managed trade show operations for the company over the last three years. He presented the company's objectives to his Account Executive, Don Burks, and challenged him to find a solution that would make IWF 2016 an even bigger success than IWF 2014.
Having worked together for three years across multiple shows, including the Association of Woodworking & Furnishing Suppliers (AWFG) and Westec, Marc was confident Don could find the best solution for them.
To find an answer, Don looked to the past. Absolute Exhibits had previously already designed several booths for Conquest that the company had loved, so rather than reinvent the wheel, Don proposed an expansion of an existing design.
The booth had been primarily used on the West Coast and since IWF was an East Coast show, many would be seeing the design for the first time.
The booth design was based on a machinery theme, which was inspired by the company's logo and their own products, and was modified to fit a larger space (20 feet x 30 feet).
The design process moved fluidly and quickly, which allowed Marc to focus his attention on the booth's backwall with popout, product selection and placement.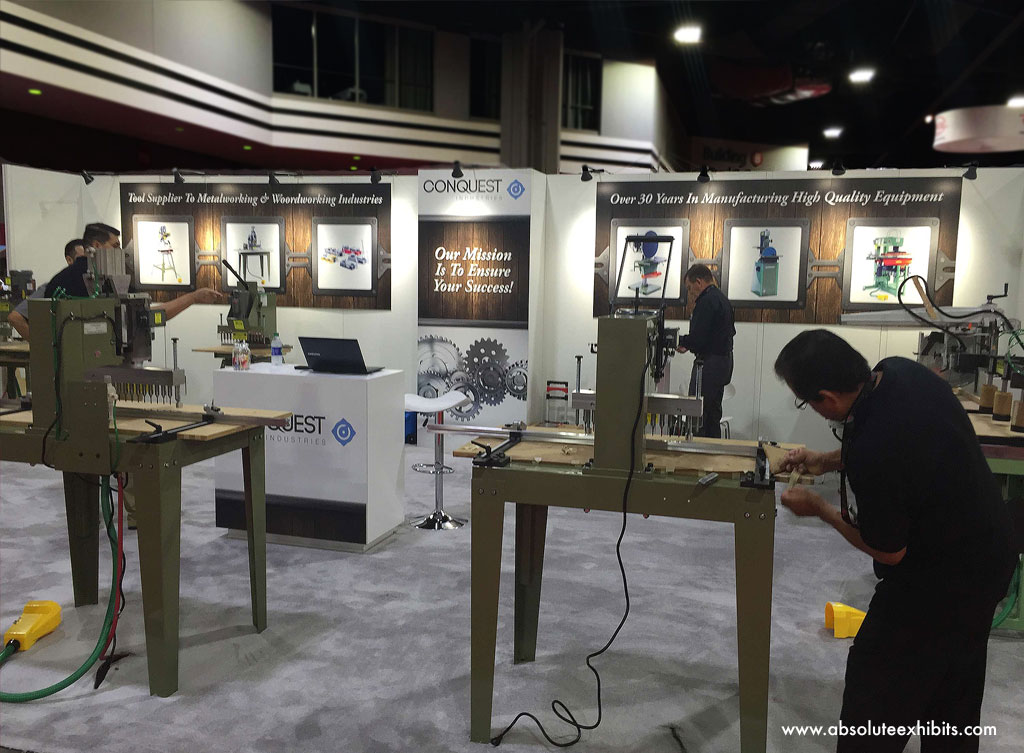 RESULTS
Conquest Industries showcased their largest, most impressive pieces of machinery to demonstrate their expertise and capabilities, and guess what people loved it!
"The booth's design was perfect because the machinery theme allowed us flexibility to serve both the metal and woodworking industries at different shows," said Cruz. "We had a lot of end users and dealers excited about the new products that we had on display and were requesting all the literature we had for them!"
However, it wasn't just the featured products at the show that were getting recognition but also those that weren't physically there.
"The backwall graphics greatly helped expand the public's understanding of what we are capable of doing. We had people coming up to us and saying, 'Oh I didn't know you guys were able to do '-fill in the blank-'!"
On Monday morning, the day after the show, Marc stated that he was already receiving so many calls that he was unable to get away from his phone. Congratulations Conquest Industries on another successful show!