Show: Interservice/Industry Training, Simulation and Education Conference (I/ITSEC) 2016
Location: Orange County Convention Center (Orlando, FL)
Client: Logistical Services International, Inc.
Industry: Modeling & Simulation for Military and Law Enforcement
Account Executive: Michael Pino
These days it wouldn't be unheard of to find a virtual reality (VR) or augmented reality (AR) headset at a friend's house. However, decades before the technology was marketed for consumer use, the United States Navy was using VR and AR as tools to immerse their officers in simulated training environments.
As the technology advanced, so did the level of immersion, and eventually VR and AR tech made its way into nearly every branch of the military, as well as local law enforcement and emergency response.
To celebrate this technology and share breakthroughs in virtual training exercises, the National Training and Simulation Association (NTSA) has organized the Interservice/Industry Training, Simulation and Education Conference (I/ITSEC), which is focused on the applications of VR and AR within the safety and service industry.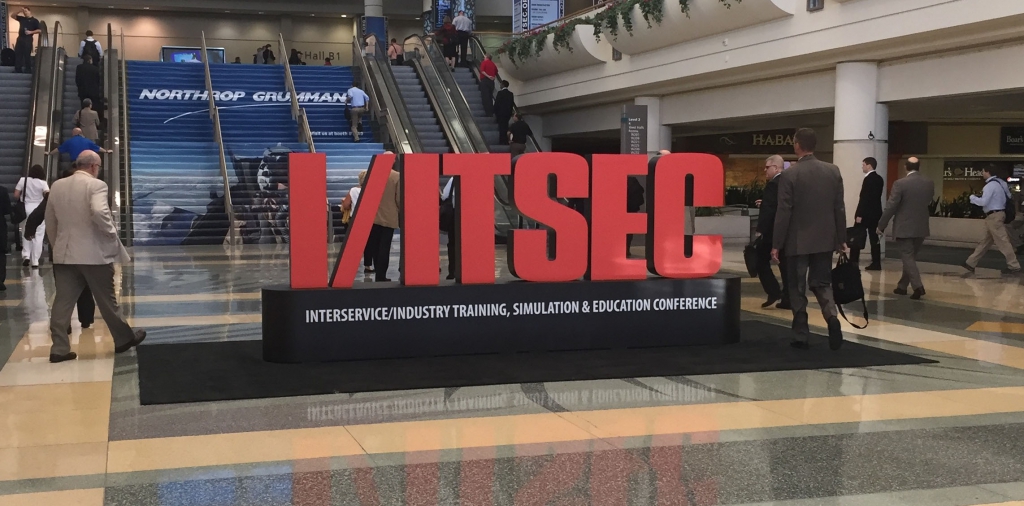 I/ITSEC celebrated its 50th anniversary last November (2016) at the Orange County Convention Center in Orlando, Florida. The event drew nearly 15,000 registered attendees and hundreds of exhibitors to showcase the latest innovations in training equipment and simulation technologies.
Among them was our client, Logistical Services International, Inc. (LSI, Inc.), which has had a presence at I/ITSEC for over 20 years.
Concept and Design:
LSI Inc. offers a full range of training services and products for the U.S. Department of Defense, Department of Homeland Security, foreign militaries and the aerospace industry.
For this show, LSI Inc. stressed the importance of a private meeting space where they could engage with important government clients and prospects. However, it was also crucial that exhibit still allow for an open and inviting space that could properly showcase their new products.

To achieve this private-yet-open booth design, electrochromic "smart glass" technology was incorporated into the walls of the meeting room.
This incredible technology uses electric current that passes through an inner layer of the glass to change the light transmission properties.
As a result, this smart glass meeting room would remain transparent and open when not in use. But at the flip of a switch, the glass would instantly change to a hazy, frosted tint to provide complete privacy.
The booth layout included several interactive kiosks and a demo area where attendees could interact with a VR Chinook helicopter training module using HoloLens headsets.
The company also showcased its Virtual Integrated Environment, which simulates real-world situations, and Virtual Maintenance Training (VMT) system, which utilizes a large touch screen to provide training for Apache and Chinook helicopters.
Results:
Jennifer Carter, Business Communications Manager at LSI Inc., was engrossed in the design process from the beginning. She brought forth several design ideas to Michael Pino, her Account Executive, and her suggestions were ultimately used in the final product.
"It was a great pleasure to work with someone so well versed in their industry," stated Michael Pino. "Several elements, including the Smart Glass, came from [Jennifer] and ended up being an integral part of the booth's design. When a client is forthcoming with their needs, it makes the process more fluid."
LSI Inc. closed out I/ITSEC in overall great spirits and has signed on to work with Absolute Exhibits again in 2017 and 2018.