If you're looking to an exhibit house to design something for your next trade show, you've graduated well beyond the days of pipe and drape with a table skirt or a pop up display.  However, whether you're just now exhibiting in a 10×20 trade show display or a 40×40 trade show exhibit, there are multiple trade show exhibit design ideas which will change the way in which you exhibit.  Consider these trade show exhibit design ideas for your next exhibition:
Trade Show Design Ideas that Wow- Living Walls 
Living walls and walls of foliage are becoming incredibly popular among exhibitors.  These kinds of trade show exhibit design ideas stand out to the crowd at a trade show because they're unexpected.  No matter the industry, a pop of greenery is unexpected in a trade show booth.  We've had clients use these trade show exhibit design ideas in industries ranging from oil and gas to the marijuana industry.  You never know where these living walls will pop up.  Increasingly, in shows where there appears to be a sea of CAM panels or metal structures, greenery is popping out to soften a brand and make it appear more approachable.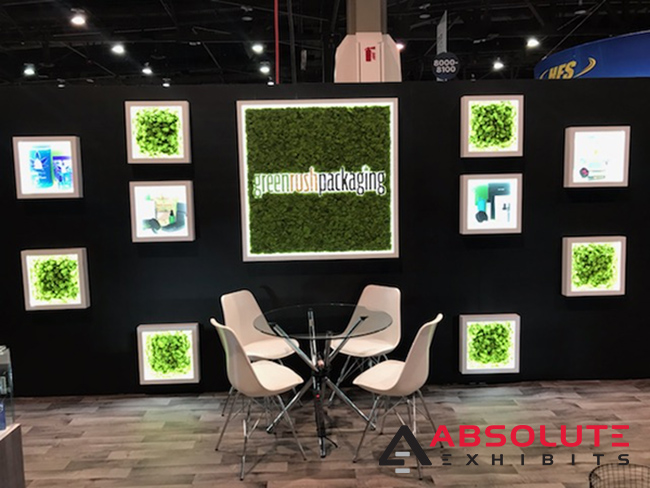 Interactivity and Involving the Sense of Touch
Among the many trade show design ideas that are dominating all industries right now is a sense of interactivity, particularly involving the sense of touch.  This could range from picking up technology to taking selfies with a selfie board or even hammering away at a physical product.  Many exhibitors engage people's visual and audio senses, forgetting about their sense of touch.  This is why we count this among our game changing trade show exhibit design ideas- they're crowd pleasers.  When you can get people involved, particularly engaging their sense of touch, they're better able to experience your brand and understand what it's all about.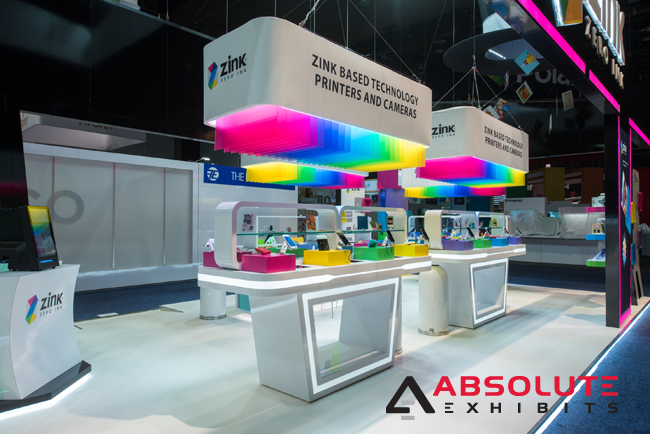 Gamification Techniques Are on the Rise
Let's face it- people love games.  How do you best demonstrate the speed of a service in your trade show display? Using great trade show exhibit design ideas such as gamification can communicate this intangible concept quite easily by incorporating it into gamification technologies.  Imagine sitting down to play a race car simulator and simultaneously making the connections between speed of service and how readily you can benefit from this service?  It's trade show exhibit design ideas like this which can draw a crowd and place your service head and shoulders above the competition.  The key to these kinds of trade show exhibit design ideas is to connect it tightly to your goods or services and keep it relevant.  As the line forms to try out your game, you can engage prospects on a deeper level of conversation.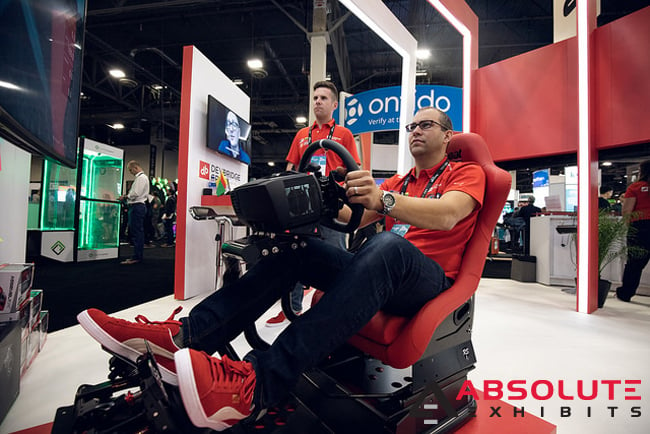 Communicate Your Brand Story Using Props
These days, it's not enough to just announce your brand; you have to communicate your brand story.  This is why one of the best trade show exhibit design ideas is to communicate that brand story using props.  Props don't need to be massive technological marvels.  They can be as simple as an inflatable unicorn used as a part of an experience such as taking pictures and using your brand's software.  As far as trade show exhibit design ideas go, it's a rather economical one.  Of course, if you have room in your budget and the desire to stand out on the trade show floor with a technological marvel, that's always a crowd pleaser.  We have multiple clients who have chosen these trade show exhibit design ideas and placed instant print camera props at the edge of their exhibits to delight and surprise passerby as pictures snap out while they walk by.  Props can similarly work to drive more traffic to your exhibit.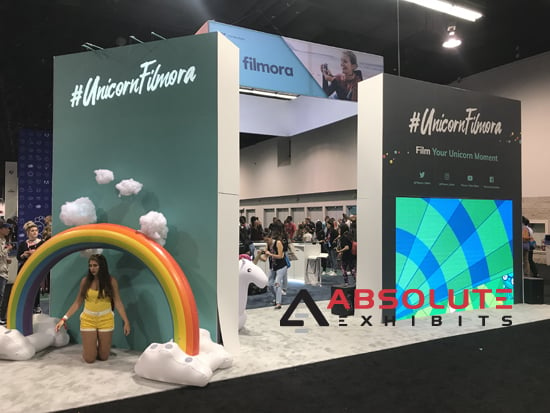 These are only a few of the many trade show exhibit design ideas that are changing the way people exhibit.  In fact, there are many others that we regularly use in our designs for customers.  If you're seeking help thinking outside the box, ask your Account Executive for a little help and see what our team can produce for you!